Are you looking for the best block themes for full site editing in WordPress?
Block themes allow you to use the Full Site Editing (FSE) feature in WordPress, which gives you more control over your website design. Full site editing offers custom blocks for styling your website's header, footer, sidebar, and other sections.
In this article, we will share some of the best block themes that you can use for the full site editing experience in WordPress.
What Is WordPress Full Site Editing (FSE)?
Full Site Editing (FSE) is a set of modern features for the default WordPress Block Editor. It was first released in WordPress 5.9.
Previously, the WordPress block editor allowed you to add and customize the content layout within your pages and blog posts. The rest of your website's layout and design was determined by your WordPress theme.
Now, WordPress full site editing lets you completely change the theme layout and add new sections to your website without writing any code.
You can also add site-wide global styles that apply to your entire website or individual styles for specific WordPress pages or posts.
The styling options include color schemes, font settings, layout spacing, image borders, and more.
However, in order to use full site editing experience, you will need a block theme. These are WordPress themes that are made specifically for full site editing.
Full Site Editing vs. WordPress Page Builders
The full site editor or block editor lets you customize your WordPress theme, including the header, footer, sidebar, and more.
It also comes with custom blocks to add a website logo, navigation menu, and other features to your WordPress website.
You will need specific WordPress themes that support the default block editor. And if you change your WordPress theme at any point, the settings will disappear automatically. It's a limitation with the full site editing option.
Related: Common Block Editor Problems and How to Fix Them
On the other hand, WordPress page builders are more powerful and flexible. They come with the drag and drop feature to create custom pages for your website.
Some of the most popular WordPress page builders include SeedProd, Thrive Themes, Beaver Builder, Divi, Elementor, and so on.
So if you create landing pages using a page builder like SeedProd, then these pages will stay the same even when you change your WordPress theme.
Another key difference between the full site editor and page builder is that the drag and drop page builders work with most WordPress themes without any limitations.
For a complete understanding, you should check out our guide on the WordPress block editor vs. page builders.
Now if you want to try and grow your full site editing experience, here are some of the best block themes for full site editing in WordPress.
1. Neve FSE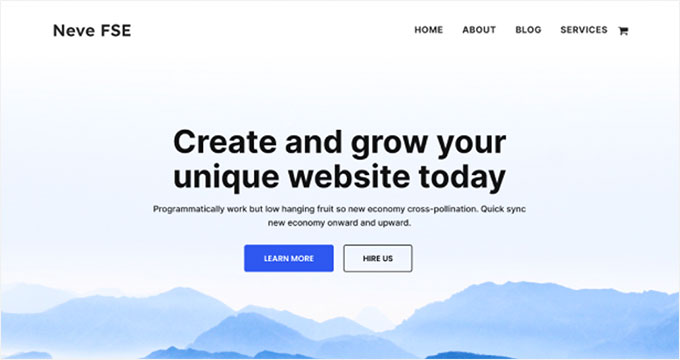 Neve FSE is a fantastic WordPress theme for any kind of website. It's fast and lightweight and comes with flexible full site editing options, including custom blocks and layout options.
It has a drag and drop header and footer builder to add, remove, and move elements easily. Also, the layout options allow you to choose from a full-width or sidebar layout.
The theme supports WordPress page builders out of the box. And Neve has hundreds of starter templates you can import to your site and customize with your favorite page builder plugin to launch a website.
2. Bricksy Pro
Bricksy Pro is a premium-style but free WordPress theme. It has a modern and stylish homepage layout, including eye-catching font styles and image choices in the top section.
It fully supports the block editor and has drag and drop features for you to design your website pages. You can use the full site editing options to manage global website styles or individual page settings.
3. Felt LT
Felt LT is a premium-quality WordPress magazine theme. It comes with widget-ready areas on the homepage and multiple useful widgets to add content to the front page.
The theme has full site editing support with a built-in style manager. It lets you customize global styles for your WordPress site, including colors, borders, buttons, and layouts, with a few clicks.
4. Raft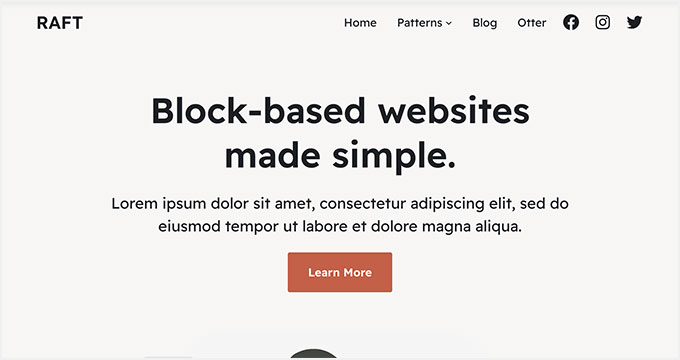 Raft is a stylish WordPress block theme. It comes with a few ready-made templates for landing pages that you can quickly import to launch your site.
It lets you change the color and look of your website with global styling options. You can also change the header style to add a custom background text or image slider. And you can apply this option to your entire site or limit it to the homepage.
5. Inspiro Blocks Pro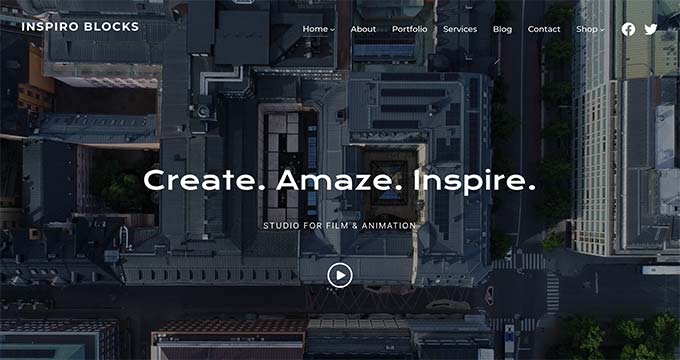 Inspiro Blocks Pro is a premium WordPress full site editor theme built specifically for portfolio, photography, and videography sites. It has an eye-catching full-width layout on the homepage with a custom animation and video background.
Moreover, the theme comes with built-in page templates for individual pages. It also includes custom block patterns, color styles, and more.
6. Julia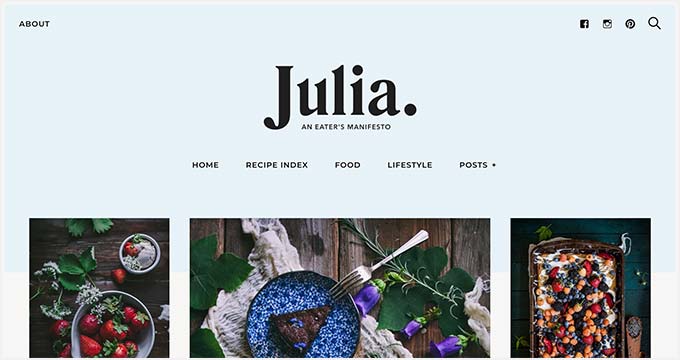 Julia is an attractive and beautiful WordPress food blog theme. It comes with a magazine-style layout for food bloggers, chefs, restaurants, and cafes.
The theme is perfect to start your food blog. It fully supports the modern WordPress block editor and full site editing options to customize the theme design in real time.
7. Jaxon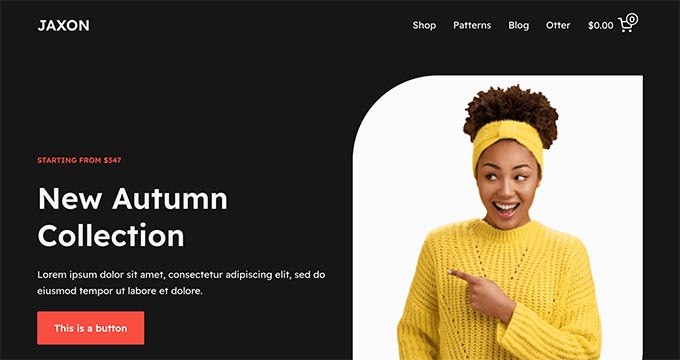 Jaxon is a beautiful and bold WordPress block theme for eCommerce stores. It comes with a crisp layout, including highly-engaging block patterns, style options, and page templates.
You can fully customize the colors and design of the theme using the full site editor. The Jaxon theme has everything you need to set up an online store.
8. Naledi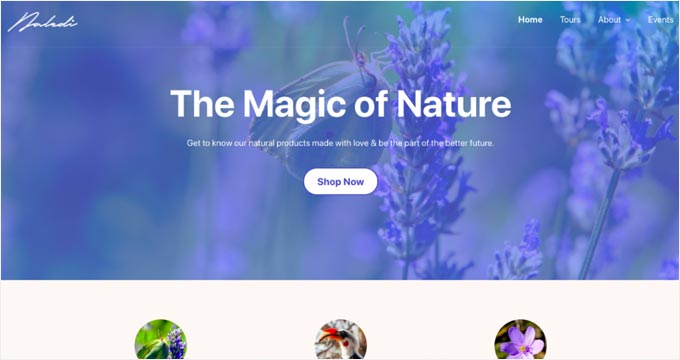 Naledi is a free WordPress and WooCommerce full site editing theme. It has a beautiful homepage layout with a full-width header background image, welcome text, and a call-to-action button.
The theme lets you make changes to the global styles to control the look and design of your site. And the style options also appear on your WooCommerce shop pages without any extra work.
9. EduBlock Pro
EduBlock Pro is a fantastic WordPress full site editor theme for educational blogs and university and college websites. The default theme template is fully ready to launch your educational website, but it also comes with multiple color schemes and custom block patterns for further customization.
The most notable features include a custom logo, dual navigation menu, call-to-action buttons, a welcome banner, and more. The theme has a responsive layout that looks great on any screen size or device.
10. Riverbank
Riverbank is a simple WordPress theme built for the full site editor. It has a minimalist layout that you can use to create a website for organic food, plants, animal welfare, and non-profit organizations.
It comes with multiple color choices for the theme background, font, headings, and images. Moreover, it has custom templates for the featured blog page, single posts, and pages.
11. BlockPress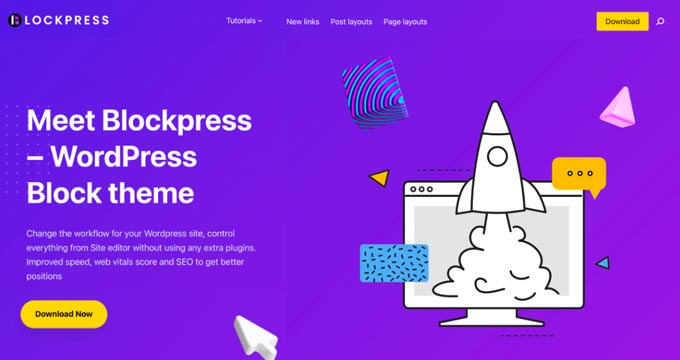 Blockpress is a free WordPress block theme. It supports full site editing options with global styles, custom blocks, and a site manager.
The theme works with eCommerce plugins so that you can start an online store. It's also translation-ready and supports RTL languages to create a multilingual website.
12. Archeo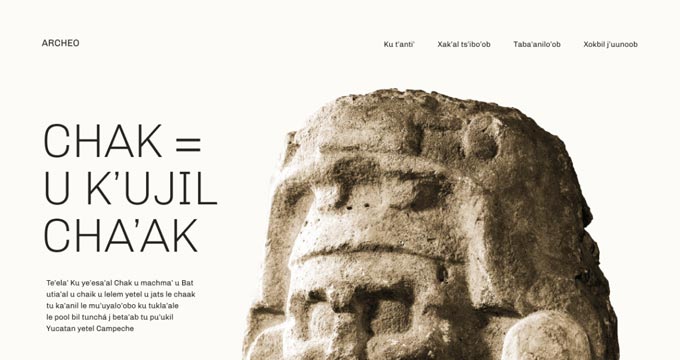 Archeo is a free WordPress theme built specifically for archeology, history, and cultural websites. It comes with a classic vintage font style on the homepage and other landing pages.
There's a fullscreen background image that you can change with the block editor. The Archeo theme supports full site editing with site-wide blocks and global style options.
13. UniBlock Pro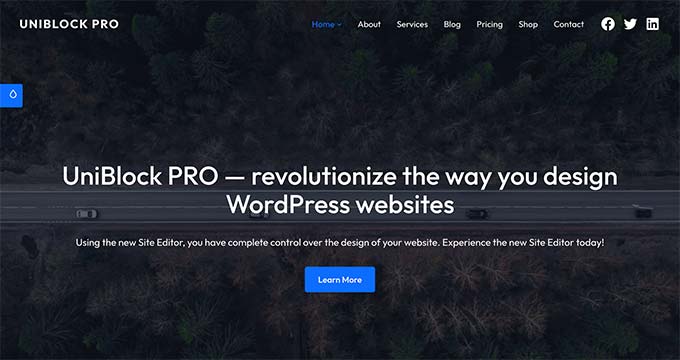 UniBlock Pro is a black-and-white WordPress multipurpose theme. It's beautifully crafted with a full-width website layout, including a custom logo, navigation menu, welcome text, call-to-action, and social icons.
The theme has a bold look with single and multi-column sections on the homepage. It also supports page builders to add new landing pages and customize global elements in the theme.
14. Stewart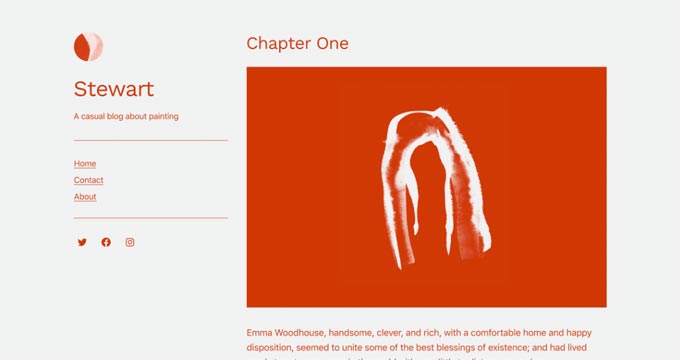 Stewart is a free and minimalist WordPress theme for bloggers, writers, and authors. It comes with a two-column layout with a sidebar on the left and your content on the right side of the screen.
It comes with a default color scheme for the WordPress blog theme. However, you can also use the full site editing features to customize global color styles, font styles, and background options.
15. Clove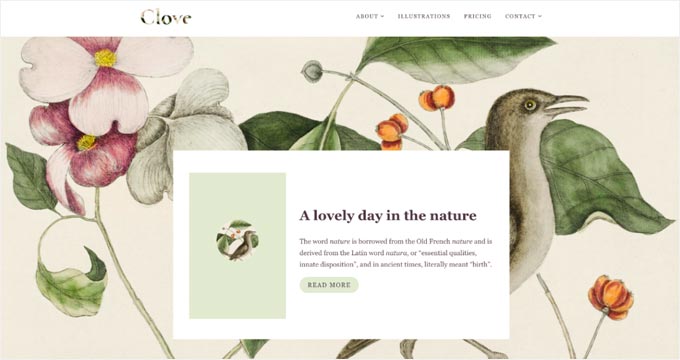 Clove is a free and beautiful WordPress full site editing theme. It comes with an elegant layout that features an eye-catching homepage design, natural colors, and a minimalistic design.
The theme offers ready-made block templates and design options. It's easy to manage these settings with global styles and the WordPress block editor.
16. Tove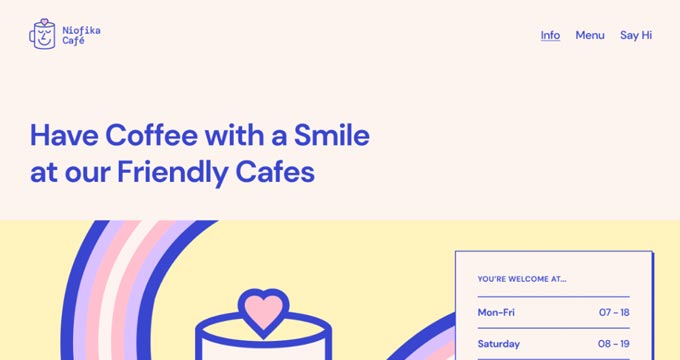 Tove is a multi-color free WordPress theme with support for modern full site editing features. It's specifically built for cafes, restaurants, and coffee shops.
The theme comes with dozens of block patterns for the header, footer, and site-wide layout. These custom blocks are easy-to-use on your entire site globally or to customize specific pages and posts.
17. Fork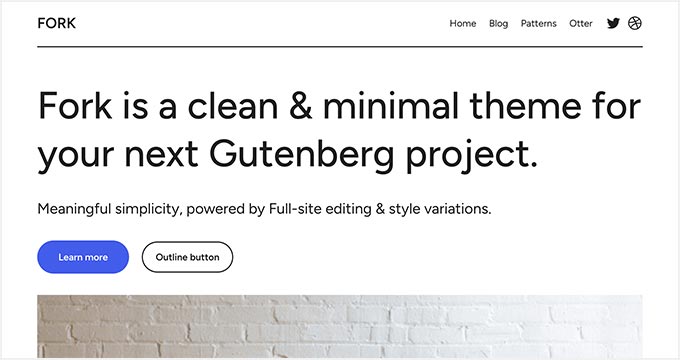 Fork is a minimalist WordPress full site editing theme (block theme) for small businesses, startups, digital agencies, eCommerce stores, and portfolio websites. By default, it has a white background, but you can use their global styles to add a color combination easily.
The top section includes a custom logo, navigation menu, welcome title and description, call-to-actions, and a featured image. You can also include custom patterns to add sections on the homepage and landing pages.
18. Hansen
Hansen is a simple and free WordPress blog theme. It offers a fully custom block theme template and supports full site editing out of the box.
The theme features include a full-width layout, a beautiful color scheme, custom background, and more. It comes with global styles and block patterns to customize your site without editing code.
19. Aino
Aino is an advanced WordPress theme with bold colors and classic font styles. It comes with a block plugin to create custom page layouts with built-in block patterns and a site manager.
The theme is easy to customize with full site editing features. You can use a single-column, two-column, or three-column layout on the entire site or individual pages as per your requirements.
20. Kemet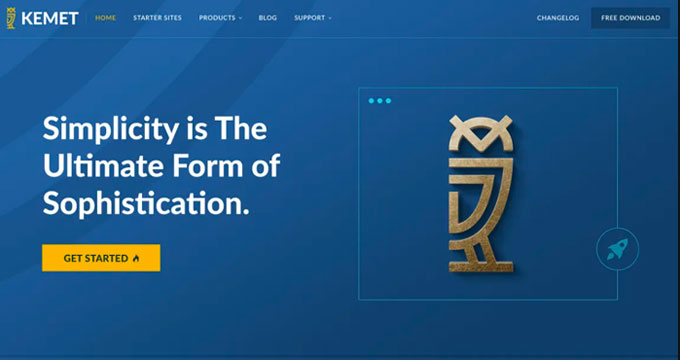 Kemet is a fast and reliable WordPress theme. It's designed specifically for personal blogs, portfolio sites, and small online business stores.
The default theme's color and font styles are highly attractive. Kemet provides built-in theme templates, template parts, and custom blocks to edit your website's header, footer, and site-wide settings easily.
21. Rosa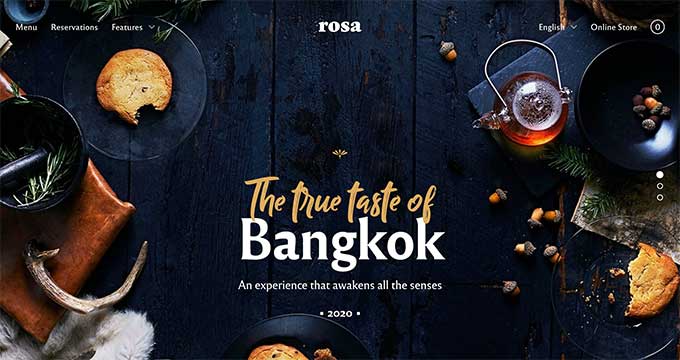 Rosa is a premium WordPress food blog and restaurant theme. It comes with a powerful visual editor and custom blocks built for restaurants and cafes.
The theme has an eye-catching design with a fullscreen homepage header layout. It gives you the flexibility to customize colors and fonts to match your global website layout.
We hope this article has helped you find the best WordPress full site editing themes. You may also want to check out our guide on how to create a free business email address or our expert picks for the best auto-dialer software for small businesses.
If you liked this article, then please subscribe to our YouTube Channel for WordPress video tutorials. You can also find us on Twitter and Facebook.