Do you want to bulk convert your old content using classic blocks into the Gutenberg (block) format in WordPress?
After updating to any version above WordPress 5.0, your older post and page content will show up inside a Classic block in the new WordPress content editor. If you have dozens or hundreds of posts, then converting that Classic block content into individual blocks can take a lot of time. Thankfully, there is a bulk convert option.
In this article, we will show how to easily bulk convert classic blocks into Gutenberg blocks in WordPress.
Why Convert Classic Block Into Individual Blocks in WordPress?
If you have had a WordPress blog for a long time, then chances are that some of your posts were written using the older classic editor.
This older content will now appear inside the Classic block in the post editor.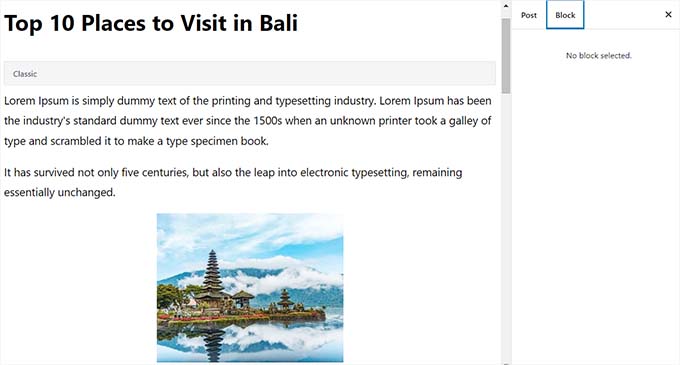 By converting the classic block into individual Gutenberg blocks, you will gain more control and flexibility over your content.
You can easily edit your post by working with individual blocks. You will also be able to take advantage of the customization options available for each block.
This helps you easily edit the content within the block editor while allowing you to create beautiful content layouts for your posts and pages.
Note: In most cases, switching from the classic to the block editor will not affect your posts on the front end.
That being said, let's see how to easily bulk-convert classic blocks to Gutenberg in WordPress.
Method 1: Convert Classic Block to Gutenberg Using Default Settings
If you want to convert a single post or page from the Classic block into individual blocks, then this method is for you.
First, you need to edit the post and page where you want to convert the blocks. You can do this by heading to Posts » All Posts in your WordPress dashboard and then clicking on 'Edit (block editor)' under the post.
This will open your post in the block editor. Then, click on the 'Convert to blocks' button in the toolbar at the top of the Classic block.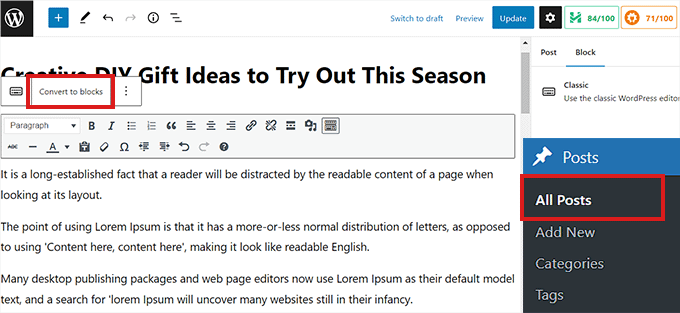 The Classic block will now be converted into individual Gutenberg blocks.
You can now access all the block settings for individual blocks from the right column. If you cannot see this panel, then click on the gear icon at the top right of the editor.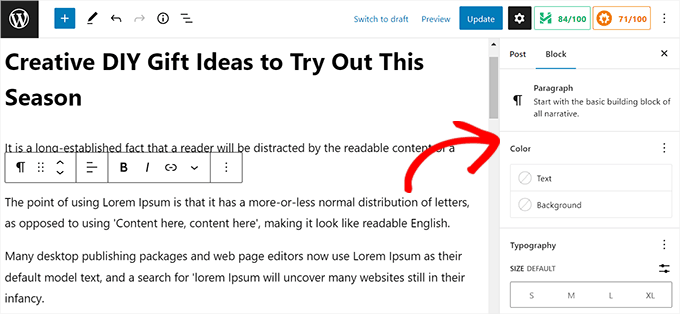 Once you are done, don't forget to click the 'Update' button to save your changes.
Method 2: Bulk Convert Classic Block into Gutenberg Blocks
If you want to easily convert the Classic block into Gutenberg blocks for all the posts and pages immediately, then this method is for you.
Important: Make sure to create a complete WordPress backup of your site before using this method because you cannot undo the conversion once it's completed.
First, you need to install and activate the Convert to Blocks plugin. For more instructions, please see our guide on how to install a WordPress plugin.
The plugin works out of the box and automatically bulk-converts any Classic blocks into Gutenberg blocks once it's been activated.
All you need to do is simply edit a post or page that was written using the classic editor.
You will now notice that the Classic block has been converted into individual blocks.
Remember that the conversion will not affect the layout of your posts on the front end, so the posts will look the same on your website.
This is how the same post looked on our demo site after converting it from Classic to individual blocks.
We hope this article helped you learn how to bulk convert classic blocks into Gutenberg blocks in WordPress. You may also want to see our beginners' guide on WordPress SEO, and our top picks for the best contact form plugins.
If you liked this article, then please subscribe to our YouTube Channel for WordPress video tutorials. You can also find us on Twitter and Facebook.